Where did it all begin?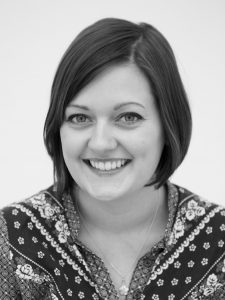 With a degree in Illustration, my first full time job after university was as receptionist at the Lace Market Hotel.  I thought shift work might allow for some spare daylight hours to work on my portfolio and begin to work as a freelance illustrator.  However, I got hooked on the hospitality industry and I've never looked back. Following four years in various Front of House and Sales roles with the Finesse Collection, I moved to Hallmark Hotel in Derby as Events Sales Manager.  From organising small meetings, to weddings and larger conferences, I found the move to Nottingham Conference Centre really exciting.  It is a beautiful building to work in and events here have much greater scope for creating memorable experiences.  In my role as Business Development and Sales Manager, I love telling everyone all about it!  So much of my role is simply showing people we are here.  Once they've seen the venue, they share our excitement in planning their event with us.
What do you think makes Nottingham Conference Centre unique for hosting events?
Our amazing team are the most dedicated event professionals I have ever worked with.  We all work closely together and bring in a range of different experience.  I also love the two different personalities to our venue.  The Newton Building with its Art Deco exterior has a totally refurbished, sleek and stylish, contemporary interior.  These rooms are perfectly suited to conferencing with inbuilt projection facilities and all the additional AV you could need.  In contrast, the Arkwright Rooms are a complete change of scenery in the Victorian end of the building.  The vaulted ceilings and arched windows make a beautiful event space for a range of events, from catered events to product launches and weddings.  The open spaces and high ceilings give the venue a spacious feel, even when full to capacity, with large events for hundreds of delegates.
What's the most memorable event you have worked on so far?
This is a difficult question!  It's hard to pick just one memorable event as we have seen so many great things happen here at NCC.  The EAUC conference last May was a great event to work on.  We worked closely with the chef on this event to write new menus to meet the soil association's accreditations.  I also love the range of things that go on in the Old Museum.  Here we have hosted a Mad Hatter's tea party with giant props and decorations.  Also, a drinks company running a product launch for a new cider product built a huge fibreglass tree in the middle of the room.  It is lovely to work in a venue with large spaces and high ceilings.  Each client completely transforms the room and uses the space in a different way.
What's your favourite area at NCC?
I love Benefactors Court.  This courtyard is always a suntrap and a great space to spend a lunch break.  Totally hidden from the road, the deep stone buildings block out almost all of the city sounds so you wouldn't know you were right in the heart of the city centre.  It's a little oasis of calm! I also enjoy looking out over our green sedum roofs, which provide urban habitats for all sorts of wildlife, including a bee hive.
We've heard you've been taking skiing lessons. Tell us a little about this experience.
Well, I've been snowboarding for a few years now and we often go to Saas-Fee in Switzerland.  I am getting the hang of snowboarding but I like a wide piste and there are times where I feel like the mountain is designed for skiers.  The Poma drag lifts are my nemesis so I've decided to have a go at skiing too with some lessons at Tamworth Snowdome.  So far, I love it.  I think I'll have to finish the skiing course before I can decided whether I'm a skier or a boarder at heart.  Either way, I'll have to keep up the snow holidays to get enough wear out of my home-knitted bobble hat collection!
We've been told that you designed your garden. Tell us about this project.
Our 1927 house has a long back garden, which the previous owners has poured an awful lot of concrete into!  The garden had to be one of the first projects we tackled after moving in.  Rather than trying to work with what we had, we decided to just go for it and hired a mini-digger, pneumatic drill and a skip!  Two skips and lots of trips to the tip later, and we finally have a beautiful green lawn and the borders are now coming along nicely with some shrubs and flowers grown from seed on the kitchen windowsill.  After living in a flat for years in the Lace Market, I love my garden and always enjoy a therapeutic spot of weeding on a sunny afternoon.
In your spare time what do you like to do in Nottingham?
After living in Derby for years, I feel the best thing about Nottingham is 'choice'.  Whatever you're looking for, there isn't just one option, you have a range of places to choose between.  For a day out, you can't beat a gallery with a coffee shop; be it the Nottingham Contemporary, Wollaton Hall or the Harley Gallery.  I also love all the cycle paths around the city, from the Big Track, to the canal path in West Bridgford past all the allotments, to a day out at Sherwood Pines. And then there is no better way to end the day than visiting some of the quirky cocktail bars with their exceptional menus and service, including Tilt and the Boiler Maker.
Posted on 02 May 2015