Organised by The University of Nottingham's newly formed China Cultural Visiting Hub (CCVH), this seminar series aims to provide a range of new perspectives on China through the lens of culture and history. Hear from museums professionals and academics about the latest trends and new developments in the research and curation of Chinese history, art and artefacts; contemporary Chinese art and film; and local links between Nottingham and China told through the history of Thoresby Hall.
This free seminar series will run May-June 2015 and again in the Autumn. Refreshments will be provided.
If you would like to attend one of the seminar series, please RSVP to reserve your place and state which series you will be attending.
Dates: Summer 2015
May
• 20/05/15
• 27/05/15
June
• 03/06/15
• 17/0615
• 24/06/15
Time: 18:30-20:30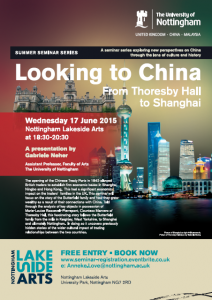 Venue: Nottingham Lakeside Arts, The University of Nottingham, NG72RD
RSVP dates as follows:
• For 20/05/15 – RSVP by 11/05/15
• For 27/05/15 – RSVP by18/05/15
• For 03/06/15 – RSVP by 22/05/15
• For 17/0615 – RSVP by 05/06/15
• For 24/06/15 – RSVP by 12/06/15
Book your place here. For more information, please contact Anneke Love