Myself and my colleague Tom were invited to sample the lunch menu at Adams Restaurant – a hidden gem located in the New College Nottingham's Adams Building in the heart of Lace Market on Stoney Street. We were keen to explore Adam's restaurant as it was recommended to us by one of Nottingham's International Ambassadors – Phil Tomlinson who is the Academy Lead for the Academy of Food, Drink and Visitor Services at New College Nottingham.
We had our table booked for 12PM on a busy Monday afternoon. As we walked in we were welcomed by friendly members of staff and showed to our table. We were pleased to discover that the interior design of the restaurant was modern and spacious.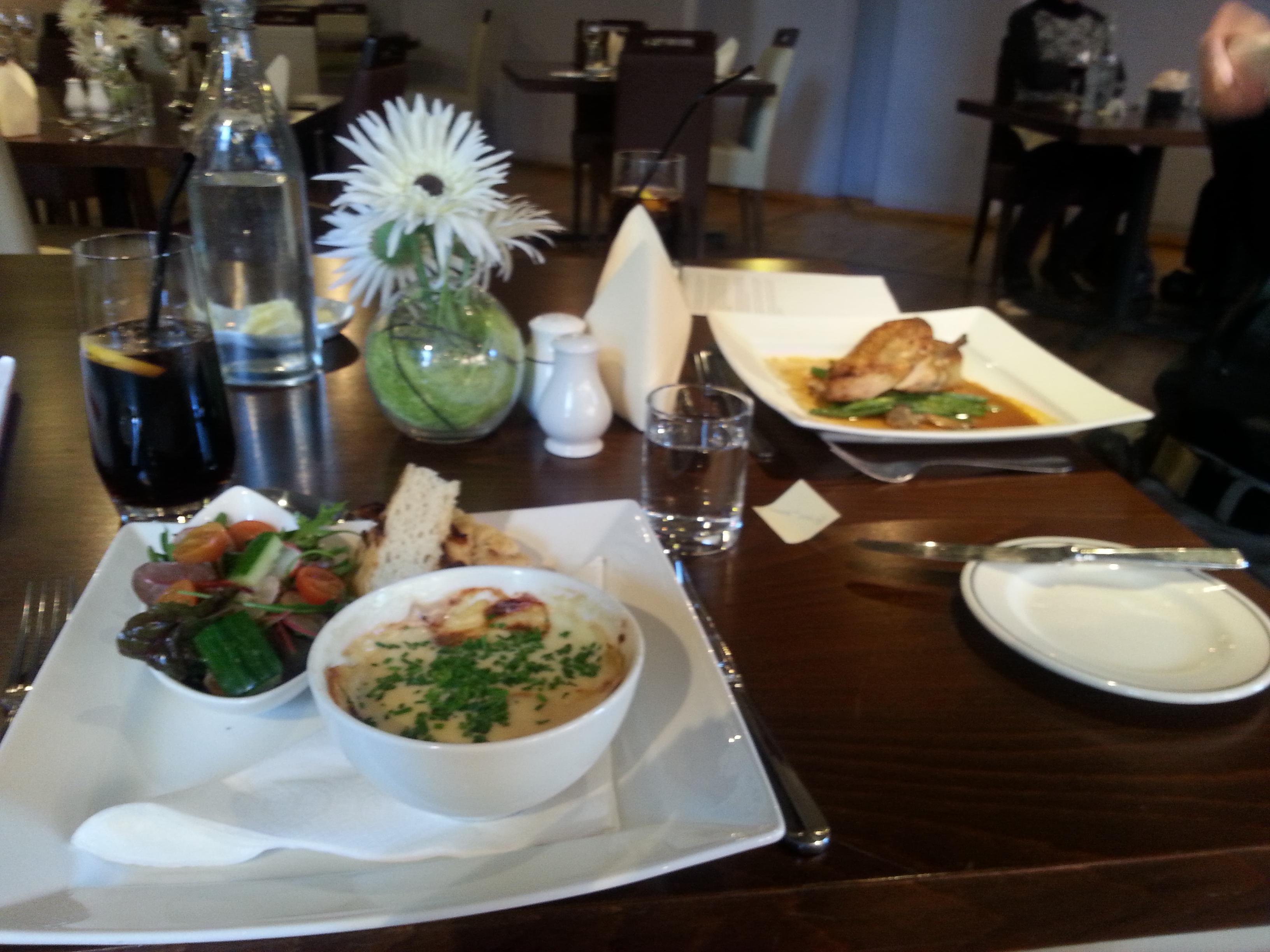 After we sat down and made ourselves comfortable we were given menus and asked for drinks. The menu was clear and had a variety of dishes to choose from with four starters, four mains and three desserts. We were keen to sample a variety of dishes so we've decided to have different starters as well as main courses. I decided to have chargrilled chicken, chorizo, brie, apple salad with honey mustard dressing as my starter, and spinach, chestnut mushroom and red onion lasagne, marinated mozzarella, garlic and rosemary focaccia and salad panache for my main. Tom on the other hand had salmon fishcakes with tomato and chilli jam with a radish salad for starter, followed by pan fried chicken supreme, potato fondant, buttered green beans, oyster mushrooms and a red wine jus.
Before our starters arrived we were treated to complimentary creamy vegetable soup with parsnip crisps for taster. It was a lovely gesture from the staff, which made us look forward to the meal even more. We didn't have to wait long for our starters, they arrived as soon as we finished the soup.
The service throughout the meal was attentive, polite and quick, everything you want from restaurant service. All the staff in the restaurant are current students at the college completing a variety of hospitality courses, so working there is both great experience and a learning curve for them to help them develop their skills for a career in the industry. The food was delicious and excellent quality. If the skills on show in the Adams Restaurant showcase what the students can do now, then they have big careers ahead of them in hospitality. We were even treated to a complimentary desert at the end of the meal – we both plumped for a cherry bakewell cake with clotted cream. It was heaven on a plate, hot and fresh from the kitchen.
All in all we had a thoroughly delightful meal at the Adams Restaurant and we would recommend it for a spur of the moment lunch or dinner whether you're looking for something to cater for business or pleasure. Corporate lunches are often held here and with the relaxed but professional atmosphere, it makes it a real hidden gem for any corporate occasion. We might even pop back ourselves soon for our own business lunch!

 Find Adams Restaurant on Twitter