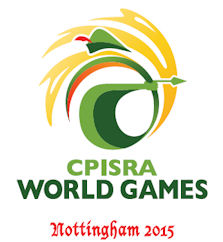 Cerebral Palsy (CP) Sport England and Wales are delighted to announce a unique partnership with Experience Nottinghamshire – the official tourist board for Nottinghamshire – as their 2015 World Games tourism partner.
The Cerebral Palsy International Sports and Recreation Association (CPISRA) 2015 World Games will take place in the heart of the historic city of Nottingham, between 7-16 August 2015, with the majority of the competition taking place on the new iconic Harvey Haddon Sports Complex.
The international competition which is attracting entries from over 23 nations so far will include Athletics (including Racerunner and Slalom); Bowls; Football (Under 19); Football Female; Swimming; para Taekwondo and Table Cricket.
The partnership with Experience Nottinghamshire will enable the World Games organising committee to provide first class tourism information and showcase everything the beautiful city of Nottingham has to offer. Not only is Nottingham the legendary home of Robin Hood, the city has much to offer as a destination for leisure and sporting events; it is also a great hub for culture, heritage, shopping and the arts.  The team at Experience Nottinghamshire will be on hand to provide assistance with booking accommodation for the competitors' friends and supporters and to help them enjoy an exceptional experience whilst they are visiting Nottingham.
Alison Talbot Chief Executive of CP Sport said "We are delighted to announce the partnership with Experience Nottinghamshire and look forward to welcoming the world when the CPISRA World Games open next August. We want to use the opportunity of Nottingham being the host city for the Games to showcase the history of the city and county as well as providing a memorable Games experience for all our competitors, team members, officials, volunteers and visitors."
Jennifer Spencer, Chief Executive, Experience Nottinghamshire said: "We are delighted to be the Tourism Partner for the CPISRA 2015 World Games which are being held in Nottingham next year and we are looking forward to welcoming participants and their friends, families and supporters from all over the world.  It is a huge honour for Nottingham to host this world-class event, which will be staged at the Harvey Haddon Sports Complex on the outskirts of the city.  The complex will be opening in 2015 following a £16m redevelopment to transform it into Nottingham's largest state-of-the art leisure facility.
"We work in partnership with Nottingham City Council and many of our sporting and leisure partners to ensure Nottingham is the city of choice for great international sporting events to take place. We are well experienced at delivering major events and, once the competitors and the families arrive here, we work hard to show them a warm welcome and a great experience in our vibrant city.  As well as its excellent sporting facilities, Nottingham is also rich in culture with renowned galleries, theatres and museums and hosting events such as the CPISRA Games provides us with an ideal opportunity to showcase all that our great city has to offer."
For more information about Cerebral Palsy Sport, please visit www.cpsport.org