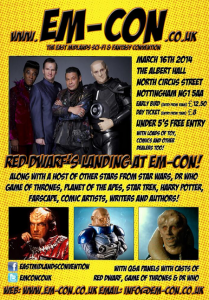 Sunday 16 March 2014 Doors Open at 10am
EM-Con – The East Midlands Sci-Fi & Fantasy Convention in Nottingham, the first of its kind to be hosted in the region. Taking place on Sunday March 16 2014, EM-CON brings some of the most infamous and exciting personalities from the world of Sci-Fi and Fantasy to the centrally situated Albert Hall, Nottingham.
From the stars of Dr Who, Torchwood, Star Wars, Game of Thrones, Red Dwarfand Star Trek, to a whole host of comic book artists and authors, the convention will be a truly intergalactic event, with special appearances from Daleks, Predators, Stormtroopers and other cosmic villains. EM-Con promises close encounters with the actors, with the opportunity for signed autographs and photos. If you want to find out more about the filming of your favourite Sci-Fi TV programme, why not come along to one of the Q&A panels taking place throughout the day – we have an excellent line up of event hosts who will put your questions to the casts of Red Dwarf, Dr Who and Game of Thrones. There will also be over 30 stalls throughout the showroom, selling an array of amazing items and custom merchandise.
For a full up to date list of guests and the latest bookings please check www.em-con.co.uk
Tickets can be purchased in advance through the Nottingham Tourism Centre (08444 77 56 78) or on the day, though with places filling up fast, booking in advance is recommended.
For those who don't want the fun to stop, EM-Con will be hosting an after-party at The Approach, Friar Lane. Tickets for this event will be available on the door, and the venue conveniently lies within short walking distance of the Albert Hall.
Read a blog on EM-Con
@emconcouk