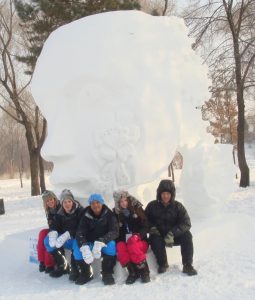 A giant mask with Nottingham lace carved into its cheeks has scooped an award in the world's largest snow sculpture competition.
A team of students from Nottingham Trent University – led by product design Professor Daizhong Su – scooped the 'Best Performance Award' at the Harbin International Snow Sculpture Competition in China.
Etched from snow, the sculpture – named 'Working Memory' – was created to reflect the university's international links and creative heritage.
It expresses how creativity bonds people globally while also reflecting the vintage, homemade and traditional crafts of Britain.
The team braved temperatures of -29oC to compete against 19 other teams  from ten different countries. They received 1,000 Chinese Yuans as a prize.
They also competed in the International University Snow Sculpture Competition – which closed yesterday – and came third for their creation of 'Multiply', which was a collaboration of ideas relating to objects and structure.
The team was made up of Alex Croft and Laura Dobson from the School of Art & Design and Annie Lewis-Leitch and Kano Thongsakul from the School of Architecture, Design and the Built Environment.
Professor Su said: "To win this award is a real achievement for us as most of the opposition were professional snow sculptors.
"We had to endure sub-zero temperatures and team members worked late in the night to complete our entry for the universities competition.

"We've all worked immensely hard and feel very proud of what we've accomplished.

"It's also fitting that our entry reflects the university's creative history in the year that we are celebrating the School of Art & Design's 170 year heritage."