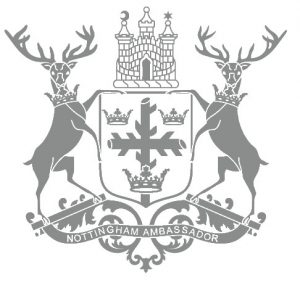 Nottingham's reputation as a city for business and events is being endorsed around the UK and the world by a team of almost 60 International Ambassadors – including the UK's greatest ever swimmer, Rebecca Adlington, OBE, the newest member of the elite band of representatives.
The Nottingham International Ambassador project is a joint initiative between the Nottingham Event Team – the event and conference bureau at Experience Nottinghamshire – and Invest in Nottingham.  The scheme recruits influential representatives who have strong British and international connections to help fly the flag for Nottingham in their work.
David Randall, Director of Conferencing and Events, Experience Nottinghamshire said: "We are honoured to add Rebecca Adlington's name to the prestigious list of Nottingham International Ambassadors and delighted that Rebecca is supporting this major project to promote Nottingham on the world stage.
"Rebecca is one of our greatest ever Olympic athletes and is well-known around the world.  The fact that she is from Nottinghamshire and has agreed to promote Nottingham through her work is terrific news for the region.
"Almost 60 Nottingham International Ambassadors cover a broad range of sectors and have business in countries including Germany and China.  The regularly increasing number of International Ambassadors are provided with all the resources they need to help them showcase Nottingham as a place to hold events and do business, and they are all profiled on the website, www.nottinghamambassadors.com.
"Our International Ambassadors range from Dr Shaoyi Zhang, an academic with strong connections in China, to Richard Whitehead, a gold-medal winning Paralympic athlete, so, as a Nottingham International Ambassador, Rebecca is in excellent company."
Rebecca Adlington is Great Britain's greatest ever swimmer. She became a household name following her two gold medal winning performances at the Beijing Games in August 2008, which made her a global superstar and a role model for female athletes around the world.
Becky's drive and thirst for success meant that she won a medal in each of the Olympic finals she swam. A four time Olympic medallist in the 400m and 800m Freestyle, she won two Gold medals in Beijing 2008 and two Bronze medals in London 2012.
Following her success in Beijing, Rebecca was awarded an OBE from the Queen at Buckingham Palace and accepted the Laureus World Sports Awards 'Breakthrough of the Year Award' from Sebastian Coe.
Rebecca retired from elite swimming in 2013 and announced a vision for her legacy: Becky Adlington's SwimStars – a swimming initiative with the goal that every child in Britain will be able to swim 25 metres by the time they leave primary school. Her famous drive is now channelled into this vision, and, after nearly three years of planning, the 'Becky Adlington's Swim Stars' programme is now up and running. For further information, visit www.beckyadlingtonswimstars.com