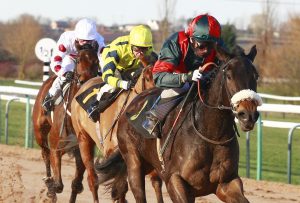 Southwell Racecourse is renowned as being one of Britain's oldest homes of the sport of kings. But what if you're not a big fan of the horses and you're just looking for a good day out? There's much more than racing to entertain you. With everything from live bands and golf to dog shows, antique fairs to weddings, Southwell hosts a huge range of events and is certainly more than a racecourse!
A favourite for events
If you need to get together with family, friends, clients or potential partners, just about everything is possible. For instance, Camelot, the company that runs the Lotto and EuroMillions in the UK, has some demanding standards – of its employees and of its suppliers. So when they organise an outing for their hard working staff, they expect the venue to be up to a very high scratch.
"I have to say that our day at Southwell Racecourse stands out as one of the best team days we've ever done," said Paul Eagle, Regional Business Manager for Camelot in the Midlands. "We were made to feel very welcome from the moment we arrived, Chrissy was a superb hostess, the food was excellent and inviting one of our team to present the prizes meant a great deal to us."
Paul isn't the only one to sing the praises of the hospitality at Southwell. Richard Hunt, Managing Director of 21C Telecoms was very happy with the flexibility of the catering team.
"I've entertained at a number of different places over the years, and Southwell was definitely different," Richard said. "With some caterers, the day is set in stone, whereas with Southwell there's a warm family approach and common sense on flexibility."
Speaking of families, you don't have to be a businessman to be entertained at Southwell. There are dog shows and antique fairs, live music and craft shows, and special family events like the Chad Family Fun Day, with bouncy castles, gladiator duels, obstacle courses and appearances from favourite TV characters. All without even beginning to cover the weddings, private parties and more. In fact, whatever you're looking for in a venue in the East Midlands, Southwell Racecourse is definitely your best bet.
From a race track to a fairway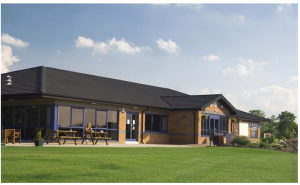 One aspect that sometimes can go under the radar at the racecourse is its links to golf. Southwell Golf Club is renowned for its welcoming and friendly atmosphere to both members and visitors alike, both on the course and in its spacious clubhouse that was first opened in 2007 where you can relax both before and after your game, enjoy the first class facilities and excellent food and drink on offer.
The club was founded in 1993, on the estate of the popular Southwell Racecourse with the front nine holes located in the centre of the racecourse. Membership to the golf club is very active with the Mens, Ladies, Senior and Junior sections offering a full competition fixture schedule aimed at players of all standards.
Several friendly events run throughout the year and there's a varied social calendar on offer at the club. Applications for membership are taken at all times and an added benefit of membership is the complimentary racecourse badge (for over 18s only) which allows the golf club member free entrance into every racecourse fixture at Southwell during the Membership Year.